Sales Development Representative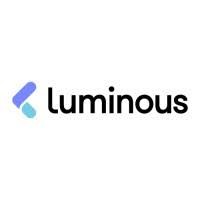 Luminous
Sales & Business Development
Lehi, UT, USA · Lehighton, PA, USA · Utah, USA
Posted on Wednesday, November 1, 2023
About Luminous
Founded in 2019 by Jared, Luminous launched to market in late 2020 with a mission to revolutionize the Modern Ecommercce space. Luminous was created to be the all-in-one solution that your business needs by providing supply chain management tools to help with planning inventory control, sourcing goods and services with compatible vendors to ensure product quality, and much more.
Position: Sales Development Representative (SDR) Location: Lehi, UT ( Hybrid )
Why Luminous?
We aren't the traditional tech sales scene you're used to.
We value results. It's not about the hours you clock in, it's about what you bring to the table.
Full autonomy to drive those results.
Part of a passionate team building from the ground up.
Opportunity for real impact - and real reward.
Compensation:
Base Salary: $45,000
Commission: Up to $20,000
On Target Earnings (OTE): $65,000
Equity: Company shares included
Role Responsibilities:
Drive new business opportunities by qualifying and developing leads.
Build and maintain a strong sales pipeline.
Consistently achieve monthly and quarterly sales targets.
Work closely with sales and founding teams to strategize and execute on sales initiatives.
Use a consultative approach to understand client needs and match them with Luminous's offerings.
Stay updated with the latest industry trends to effectively position Luminous in the market.
Qualities We're Looking For:
Self-Starter: We need someone who wakes up with a mission. No hand-holding here.
Drive: You know what needs to get done and you execute. No excuses.
Passion: Hungry for success? That's what we're looking for.
Adaptability: As a growing company, things change. You're someone who rolls with it.
Team Player: While you're independent, you know how to collaborate with a team.
Client-Centric: Our clients are at the heart of what we do. You should be driven to give them the best.
Qualifications:
Proven track record in sales or lead generation roles.
Strong communication and interpersonal skills.
Familiarity with CRM tools and modern sales tech stack. (Apoll.io, Hubspot, Store leads)
Hungry for success
How To Apply:
To be a part of our exciting journey, submit your resume, a brief cover letter, and any relevant credentials to zach@joinluminous.com
At Luminous, we believe in equal opportunity. We value diversity and always treat all employees and job applicants based on merit, qualifications, competence, and talent. We do not discriminate on the basis of race, religion, color, national origin, gender, sexual orientation, age, marital status, veteran status, or disability status.